Balance and stability training can improve your running times.  We've all done it. Happily trekking along, enjoying our run, and then BOOM. On our faces in the dirt. Usually just as some super cute runner passes by with a pitying "awww well THAT must be embarrassing" kinda look. We get up, dust off our pride, and start swearing that that root just came right out of nowhere!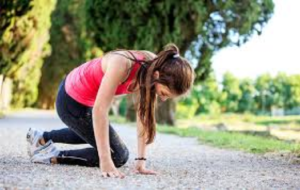 We see runners who have had unfortunate spills all the time at RunLab. They wander in hoping we can help prevent these little trips and falls in the future. What we find more often than not, is that when we assess the individual's ability to balance on one leg for 30 seconds, they are unable to perform this simple exercise. Now, imagine hopping forward from one leg to the other repeatedly in rapid succession if you can't even STAND on one leg for as little as 30 seconds.  If you are unable to balance statically, it gives insight into how much your body must work to keep you upright while running. Each unstable step is causing micro-damage to your body. Over time this damage will lead to injury.
A lack of balance and stability is not reserved for beginner runners. We often see similar stability limitations in our elite runners. Many of our elite marathon runners are Olympic trial qualifiers who have run the marathon at a sub 5:18 a mile pace.  The reason we see stability problems in these elite athletes is because the majority of their strength programs consist of working gross motor patterns. Meaning, they repeatedly perform movement patterns using their large primary muscles. In addition to running, they perform exercises such as squats, lunges, step-ups, and push-ups. While these exercises are great for building strength and should be performed, they tend to neglect the smaller stability muscles. This is evident when we have the athletes perform the same exercises in a slow, controlled manner. They are unable to successfully complete the movement, proving a lack of stability and proper core activation. Both elite and beginner runners will benefit by adding traditional balance exercises, as well as compound exercises that challenge their pelvic floor and spinal muscles simultaneously.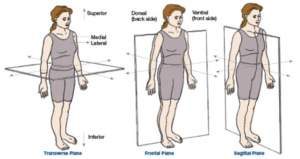 Runners tend to lack stability because we fail to work our muscles in multiple planes of motion. Muscles work in three different planes to accelerate, decelerate, and stabilize motion. These three planes are sagittal (forward/back), frontal (side/side), and transverse (rotational). If we only perform exercises  in the sagittal plane (sit, run, cycle, etc), the muscle fibers will start to lose their ability to operate in the other planes, thus causing instability.
Balance and stability are a complex interplay between having proper muscle strength and coordinating the muscles to do their job at the right time (timing of contractions). While there are many underlying physiological attributes to make this interplay successful, it is relatively simple to improve your balance.
Let's talk about what types of balance and stability exercises can help improve your running times.  In order to see performance improvements, incorporate balance drills into your workout routine three days a week. Begin with traditional static balance exercises such as standing on one leg for 30 seconds or performing 10 Romanian deadlifts on each leg. Then progress to performing the exercises on an unstable surface such as a foam pad or Bosu ball.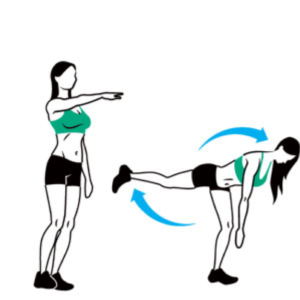 .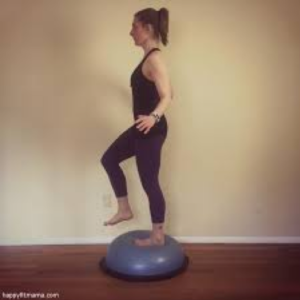 After you master these exercises, start performing dynamic single-leg exercises in a slow, controlled manner.  Try 10 step-ups with rotations and 10 lunges to knee with medicine ball chop.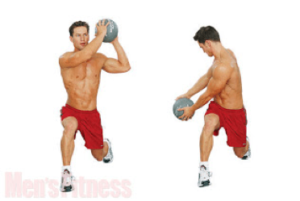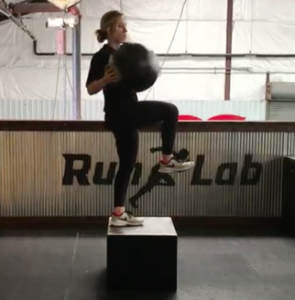 Once you feel comfortable and stable performing these exercises, progress to dynamic balance exercises such as speed skaters with a static five-second hold on each leg. Perform three, 30 second rounds.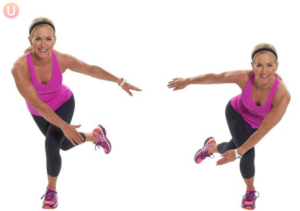 These balance exercises are just the beginning. There are many variations and ways to keep challenging your body in the frontal plane. Start doing them regularly and you'll be surprised at the benefits!!
Also, give that guy a hand next time you see him lying face-down in the dirt. Just sayin… 😉
Thank you for taking the time to read our RunLab™ Blog! We hope that you use this information to run more injury free and to optimize your running performance. 
For more information about the RunLab™ team and to get your running stride analyzed by one of the preeminent gait specialist teams in the country, please visit WWW.RUNLABAUSTIN.COM
Outside of the Austin area? You can still have your running stride analyzed by one of the best teams in the country. Just visit WWW.RUNLAB.US to see where our partner filming locations are based or choose the self-film option. 
RunLab™.  Helping runners help themselves.
ABOUT LORIN WILSON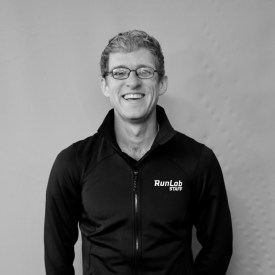 Lucky enough to be a part of a great running program in high school, Lorin not only went on to win the 2007 Texas 4a State Championship in the mile but also went on to earn a track scholarship to the University of Texas at Austin. Lorin graduated from the The University of Texas at Austin with a major in Exercise Science and a minor in business. While still attending UT, he began coaching distance running at St. Stephen's Episcopal school where he would coach student-athletes to break school records in the 400 meter, 800 meter, 1600 meter, 3200 meter, 5000 meter, 4×400 meters, and 4×800 meters. After graduating from UT and during his aforementioned tenure at St. Stephen's, Lorin also worked for the local Austin non-profit Power For Parkinson's as a fitness instructor, which provides free fitness programs for individuals with Parkinson's disease. No longer a trainer at Power For Parkinson's, Lorin does fundraising campaigns for Power For Parkinson's. During this period he also started BlueSky Running LLC, which provided on-site Yoga programs for employees of the Austin Independent School District (teachers, administration, bus drivers etc).
Lorin has the following physical training certifications: National Academy of Sports Medicine (NASM) Certified Personal Trainer, Performance Enhancement Specialist (NASM), Corrective Exercise Specialist (NASM), Senior (elderly individuals) Fitness Specialist (NASM), Fitness Nutrition Specialist (NASM), RunLab Clinical Gait Specialist, USA Track & Field Level 1 Coach, and a USA Yoga Alliance 200 Hour Certified Yoga Instructor certification earned while studying in Rishikesh, India. Lorin is a MBA Graduate with an emphasis in Accounting from Texas State University. He was also the President of the Texas State MBA Student Association and a Future Texas Business Hall of Fame Scholarship Recipient.
Lorin has a marathon best of 2:37:05 (5:59 per mile pace) run at the 2011 Los Angeles Marathon. He ran his first 100 miler in 17 hours 30 minutes (10:15 per mile pace) in Flagstaff, Arizona in September 2018. He ran the 2019 Boston Marathon in 2:37:59. He also has three top 10 finishes (5th, 7th, and 10th) in the Capital 10,000, the largest 10k in Texas, with the latest two being 2016 and 2017. Lorin looks forward to working towards his goal of making high-quality fitness accessible to everyone while he continues to train for 100 mile races.

LEARN MORE:
RunLab™ Podcast RUN.
RunLab™ YouTube channel